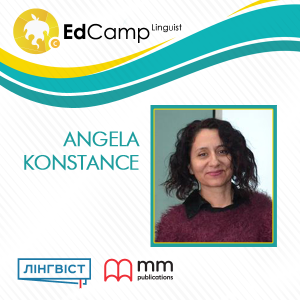 На щорічну (не)конференцію EdCamp до Києва завітає спікер від видавництва MM Publications.
Angela Konstance із видавництва MM Publications проведе дві сесії на цікаві та хвилюючі теми, наприклад, що означає бути сучасним вчителем та як стати Супервчителем у звичайній школі, маючи при цьому обмежені ресурси.
---
Angela Konstance. Born in Sydney, Australia. She completed her Bachelor and Master's degree in teaching English at Macquarie University, Australia. She has had extensive experience in Primary and Secondary schools in Australia and Europe. She is involved in teacher's training. She also works with MM Publications as a teacher trainer.
---
How does an individual learn something new when the topic is brand new to that person?
(Plato – Greek philosopher 428 BCE – 347 BCE)In ancient times, it was philosophers and scholars, in modern times, it is psychologists and educators who try to discover and record new learning theories and techniques which best suit learners. Today, we'll be looking at six modern theorists that all teachers should know! A focus on how their work is put into practice in our classrooms will be given.
 Bring out the best in you, to bring out the best in your students.The demands of an 'ordinary' teacher seem to be increasing every day. It would seem that Superteacher is required. However, are you Superteacher? And if not, how do you go about becoming one? Stay tuned for practical ideas, on how to become Superteacher in a 'normal' school with 'normal' aids like a course book and the Interactive Whiteboard.