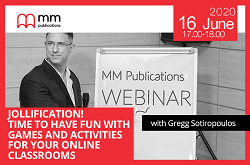 Якщо Ви не встигли приєднатись до наших травневих вебінарів з Gregg Sotiropoulos, у Вас є можливість зробити це зараз.
Дата: 16 червня 2020
Час: 17.00-18.00
Тема: "Jollification! Time to have fun with games and activities for your online classrooms".
Truth be told, teaching online can sometimes be a tedious task – especially when our students are disengaged and the flow of the lesson is broken. What can we do at that moment to re-engage our students? Together, let us take a look at some ideas that will surely tweak your students' interest and participation, making your online lesson memorable!
Спікер: Gregg Sotiropoulos, MM Publications ELT Consultant, teacher trainer, international speaker
Learn more about Gregg
Beginning his career in education in 1996 as an elementary school teacher in New York, Gregg continues to this day to motivate, inspire, and coach both teachers and students worldwide. In today's everchanging society his approach to education is led by his mindset of filotimo, meaning "doing good". Gregg speaks internationally on diverse topics such as "Professional Development", "Soft Skills", "Motivation" and "Having Fun"! He is currently working for MM Publications as an ELT Academic Consultant and teacher trainer.
Реєстрація за посиланням. Кількість місць обмежена!