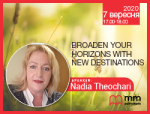 We invite you to join for special webinar session "Broaden your horizons with New Destinations" on Monday 7th September 2020.
Date: 7th September 2020
Time: 17.00-18.00
Topic: "Broaden your horizons with New Destinations"
Speaker: Nadia Theochari, MM Publications ELT Consultant, teacher trainer, international speaker
What will you learn from this session?
This tutorial will help you familiarise yourself with this flexible coursebook, its components and the recommended teaching approach. All of the coursebook's extra features will be clearly explained, and you'll also find practical ideas and examples of how to integrate the four skills in the ELT classroom.
Join us very soon.
At the end of the webinar, we will run a book raffle as a pleasant bonus for you. We will define 5 lucky teachers who will receive valuable prizes from MM Publications Ukraine.
All the participants will get a certificate at their email address.